The Phoenix Cyclery is Passionate about Bicycle Fitting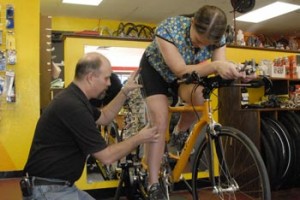 Insanely Passionate. The Phoenix Cyclery combines its own extensive experience and knowledge with the industry's foremost innovators in bicycle fitting and comfort. Seven, Serotta, and Fit Kit represent the very top of cycling fit specialists. The Phoenix Cyclery has taken what we already knew and enhanced it with their help.
The Phoenix's fit specialist, Rick Woy has over 18 years of fit specific experience. Rick is a Serotta Certified Elements and Advanced fit expert. Fit Kit Level 3 Certified Technician as well as Fit Kit RAD Certified. We employ the latest tools and a host of knowledge to make sure every fit we do is spot on. We guarantee every fit service we provide.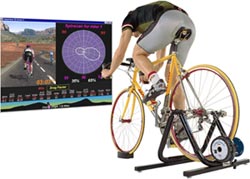 Others subscribe to the notion that a bike can be fit using formulaic, pre-set measurements or fancy body scanning machines. They may as well be fitting you for a custom chair oblivious of the fact that a bike doesn't merely accommodate your body, but actively expresses it. We use body measurements as a starting point and enhance it using the Waterford Fit Cycle and RacerMate Computrainer. We know that the very individual way you move on a bike is the point of departure for designing your dream bike.
We want you and your bike to be one. You should be comfortable and yet generate power. You should be efficient and aerodynamic yet still be able to breath. We can help the beginner rider to the seasoned racer.
Waterford Fit Cycle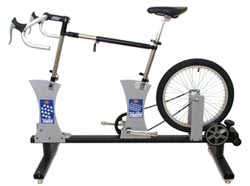 We begin with no pre-conceptions, no template. Just US, the Fit Cycle and YOU. The bike we create in the fit process is a bike that has never existed before. We are at Square One, open and ready to learn about you. We want to know your limitations and your strengths. Most of all we want you to teach us as much as we hope to teach you about bicycles and how we all experience them. You get to physically ride the bike as we make adjustments. This way you get to feel how the change affects your ride and comfort. We can make any number of adjustments, stem height and length, top tube length, seat height, seat angle, plus many more. We tailor the bike to fit YOU. This method takes all the guess work out of what works for you and your body.
The Phoenix Cyclery follows a simple and complete process to fit your bike:
Interview
Flexibility Test
Fit Cycle Assessment
1 Month Follow-up
By following this process every time, we are able to step by step analyze your riding position to a degree no out of the box standardized fit system ever could.
Existing Bike Fit
We take all the principles from the Fit Cycle Fit procedure and apply them to you and your existing bicycle. Our goal is to make you more efficient, more comfortable, and more enthused about riding your bicycle. We work with the existing frame and dial in all the adjustable variables to make you and the machine function as one.
Power/Performance Fit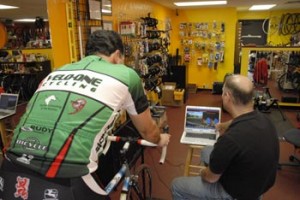 This is where we combine all the principles of the Fit Cycle Fit with the high tech properties of RacerMates Lab CompuTrainer. With the CompuTrainer we can fine tune your position to maximize your power. We will also analyze your pedal stroke using the "Spin Scan" feature. By measuring the efficiency of your pedal stroke we can help you pedal correctly using an even amount of pressure on the pedals at all times, as well as utilizing all of the muscles of your legs optimally to generate the most power. We can also compare power output and heart rate for various positions eliminating the question of where things should be.
Developmental Fit
Here we use the Fit Kit System of body measurement in combination with our rider assessment. We can use this tool to fit an existing bike or find you a new bike. This is a static fit as apposed to the other fits we do, which are a dynamic fit (which allow you to ride the set up before changes are committed to).
RAD Pedal Fit (Rotational Adjustment Device)
RAD's makes sure you don't have issues with your knees if you're using a clipless pedal system. Cleat placement is generally one of the most overlooked fit set-ups on a bicycle. We will get the cleat placed in the correct fore/aft position on the sole of your shoe, as well as the proper rotational position. We then work on adjusting seat height, seat fore/aft position, and seat angle. We'll make you biomechanical correct to alleviate knee issues while getting you the most power transmission to the rear wheel thru the pedals.